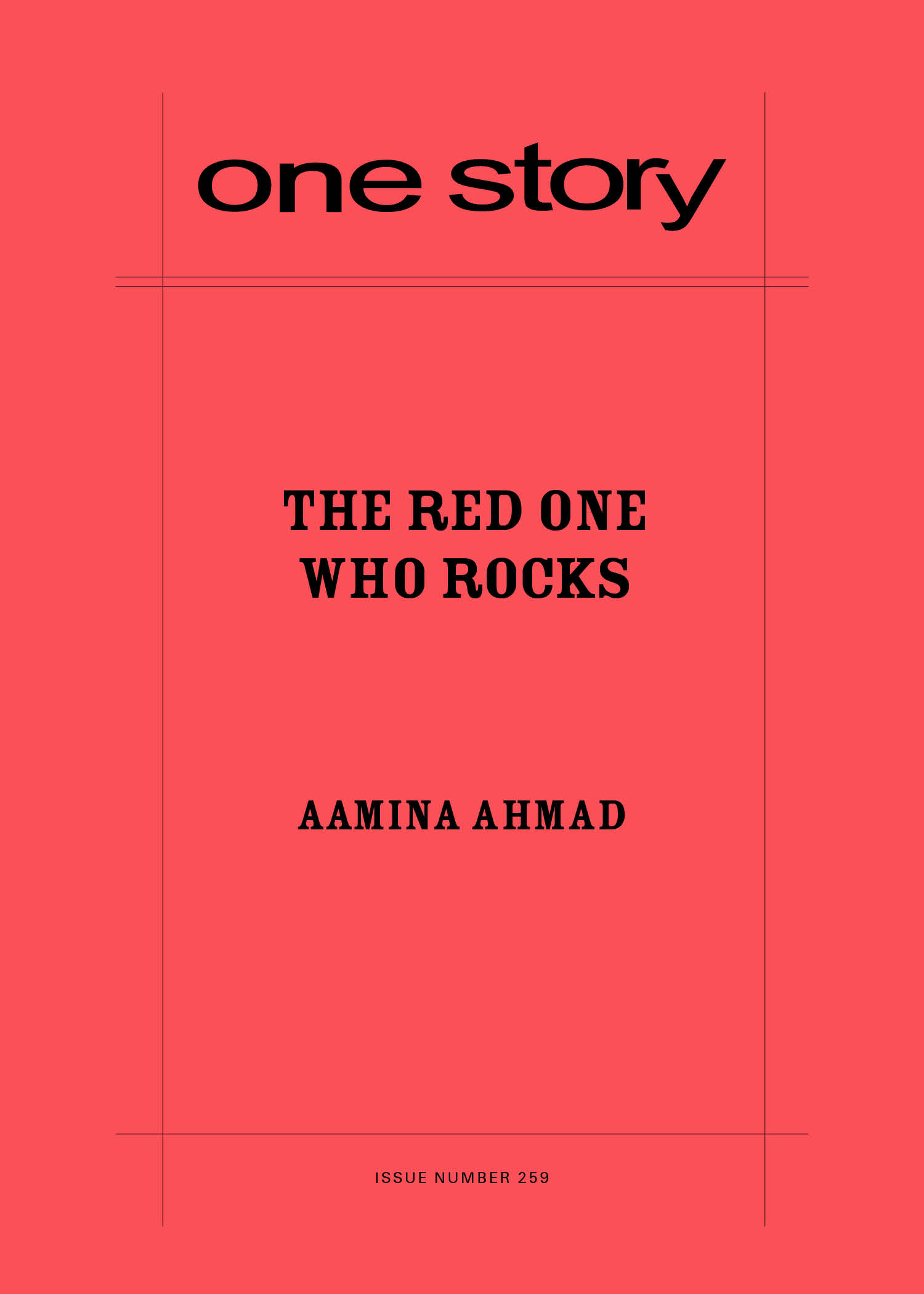 The Red One Who Rocks
103 in stock
Excerpt
Humair first saw the girl, brittle and angular as a kite, from the window of the train. She stood near the tracks looking up at the sky, her arms in the air, ready to catch something, whatever it might be, in her hands. He had laughed when the pilgrims talked of roadside djinns but he thought of them now, lying in wait for souls to steal. His mother-in-law, Rashda, was sitting next to him. She had fallen asleep, and her head bobbed against his shoulder. Last night, he'd woken whenever the train stopped, which was often, and each time he'd found her awake, staring out the window. Now that she had finally dozed off, her dupatta had slipped from her head and he could feel the sweat pooled around her hairline, damp against his shirt. He shifted, but shamefully; he knew he should sit still, that since Saima's death the old woman slept little and poorly, and that was his doing.
Aamina Ahmad
Aamina Ahmad grew up in London. She holds an MFA in fiction from the Iowa Writers Workshop. Her play, The Dishonored, was produced by Kali and toured the UK in 2016. Her short fiction has appeared in The Normal School, The Missouri Review, Ecotone and The Southern Review. She was a winner of the Missouri Review's Peden Prize and has been the recipient of a Stegner Fellowship and a Rona Jaffe Writer's Award.
Lena Valencia on "The Red One Who Rocks"
One of the disorienting things about grief is that though your own world may feel shattered, the outside world doesn't grieve with you. This is something Aamina Ahmad set out to capture in our newest issue, "The Red One Who Rocks."
In it, Humair, a widower, accompanies his mother-in-law on a pilgrimage to the Urs in Sehwan, Pakistan, a commemoration of the Sufi saint Lal Shahbaz Qalandar's death and union with the divine. To complicate things, Humair is in some ways responsible for his wife's death. As the festivities unfurl around them, Humair reckons with grief, guilt, and a strange young beggar woman who seems to be following him and his mother-in-law.
Ahmad's story is one that I'll always remember reading for the first time. I found it in a stack of submissions on a slow July afternoon and was instantly transported into the thick atmosphere of the train to Sehwan, the hectic celebration of the Urs. It's a story that wrestles with complex ideas about grief and spirituality, about guilt and recompense. One Story is thrilled to bring you "The Red One Who Rocks."
Q&A by Lena Valencia
LV: Where did the idea for this story come from?

AA: This was one of those stories that, like a patchwork, came together from various fragments over time. One of those fragments was an encounter with a woman I met in the security line at Heathrow Airport some years ago. We were making small talk, complaining about the time the checks were taking, and all at once she told me that the year before her son had died and that she'd lived the last year in a fog not wanting to speak to anyone. She said that she didn't really know why she was traveling to where she was going, but she'd decided she needed to go somewhere, do something. I told her how sorry I was and felt the absolute inadequacy of those words in the face of this stranger's immense grief. The story has sometimes felt to me like the condolence note I would have liked to write her. I didn't know how to say it at that moment, but I had wanted to say that I could see the vastness of her loss, her longing, and how terrible this must be for her to live through. I still think of her and hope that she has managed to find her way through the days since.

LV: What was the most challenging aspect of writing this story?

AA: I really struggled with the ending. Given the enormity of Humair's mistake, it didn't seem possible for him to reach any kind of clear resolution during the course of the story, but I still wanted it to feel as if he had traveled somewhere by the end of it. But whenever I wrote an ending, Humair seemed to drift towards it. It was when Patrick Ryan came to the story with fresh eyes and a suggestion about giving Humair more agency that I think I finally found the ending.

LV: Upon first reading "The Red One Who Rocks," I was struck by the vivid setting of Sehwan. This is a story where place is as much of a character as the humans who inhabit it. Can you talk a little bit about the setting, and how it's being used in the story?

AA: Sehwan during the Urs is a place of swirling celebration and spiritual connection. I was hoping that placing these characters, all of whom are suffering deeply, in the joyful chaos of the Urs would create a kind of heightened discord in the story. The kind of discord that would underline the disconnection the bereaved can feel as they move through the world, certainly when they travel through a world which seems to have moved on when they cannot.

LV: Humair, Rashda, and Imli are all rich and fascinating characters. Yet the story is told from Humair's perspective, in close third. Why did you choose to tell the story from his point of view?

AA: Using Humair's point of view allowed me to explore the way grief can collide with guilt. Many of us struggle with feelings of guilt when we lose loved ones. What interested me about Humair's guilt was how complicated it is. He is responsible for Saima's death, and he's not sure what he felt for her then or now. The messiness and ambiguity of his feelings made him an interesting point from which to explore how fraught and complex grief can be.

LV: In addition to your fiction, you've also written for the stage. What does writing for the theater teach you about fiction, and vice versa? Do you know what form an idea will take before you sit down to write?

AA: I think working in drama often trains you to look at stories through a structural lens, and so I do tend to think of stories in terms of act structure and event, which is often useful for troubleshooting when a story isn't working. The other great value of writing plays is that you get to watch an audience watching your work. You can see if they're sleeping through it, if they're laughing in the right places, or the wrong places. It's both thrilling and humbling! Of course, this is something you don't experience when writing fiction. And, in fact, I've always felt when I write fiction that really I am writing for myself, but having the experience of a production and of immediate feedback from an audience has definitely made me more mindful of the reader, of my obligation to connect with them, to keep them in view when I write.

LV: How long did it take you to complete this story?

AA: I have long periods of putting a story away when I'm writing, but in all, writing on and off, it's taken about seven years. I have one or two stories that were written quickly in a couple of drafts but most have, like this one, taken many years.

LV: What are you working on now?

AA: I am working on a crime novel set in Pakistan in the 1960s. I always thought Lahore would make a great setting for a noir and so the story begins with a murder in the old city and goes on to explore the history of a family and of Pakistan.

LV: What is the best bit of advice about writing you have ever received?

AA: In the first draft of this piece, the character Imli appeared halfway through the story. When I workshopped the draft, my teacher, Kevin Brockmeier, suggested introducing Imli early on as a way of focusing the story's intentions right away. It was the kind of really practical suggestion that helped to remind me that effective storytelling is often about balancing setup and payoff in a way that will best satisfy the reader.